When it comes to dressing up for a hot summer day, versatility and comfort are what we're all looking for, right? Smile if you agree with us. 😊
Even we live historical times, life goes on by keeping the physical distance and continuing to stay safe. Our summer days continue to be full of work projects, meetings and deadlines, birthday family parties, romantic dinners, walks by the beach and cozy gatherings with BFFs. And sometimes, more than two events can happen in a single day.
For every summer day, we wish for an effortlessness and stylish look, dressing for everything as easy a frappe drink by the beach.
Our secret for an effortless and yet stylish look: the shirt dress you will fall in love with!
Shirt dresses are effortlessly chic, feminine and comfortable; plus, they are always in vogue and can be styled to suit everything on your summer calendar. The Jellyfish Print Midi Shirt Dress is one of our favorite pieces from "Under the Sea" SS20 Chemistry collection. This V-neck dress comes with a summerish print customised for Chemistry by illustrator Madalina Andronic. The Jellyfish Print Midi Shirt Dress is made from lightweight viscose in a flattering fit-and-flare silhouette. It is designed to be slightly fitted at the bust and waist, loose at the hip. The fabric is gathered around the waist to create volume. Detailed with tonal buttons through front, it features in seam pockets.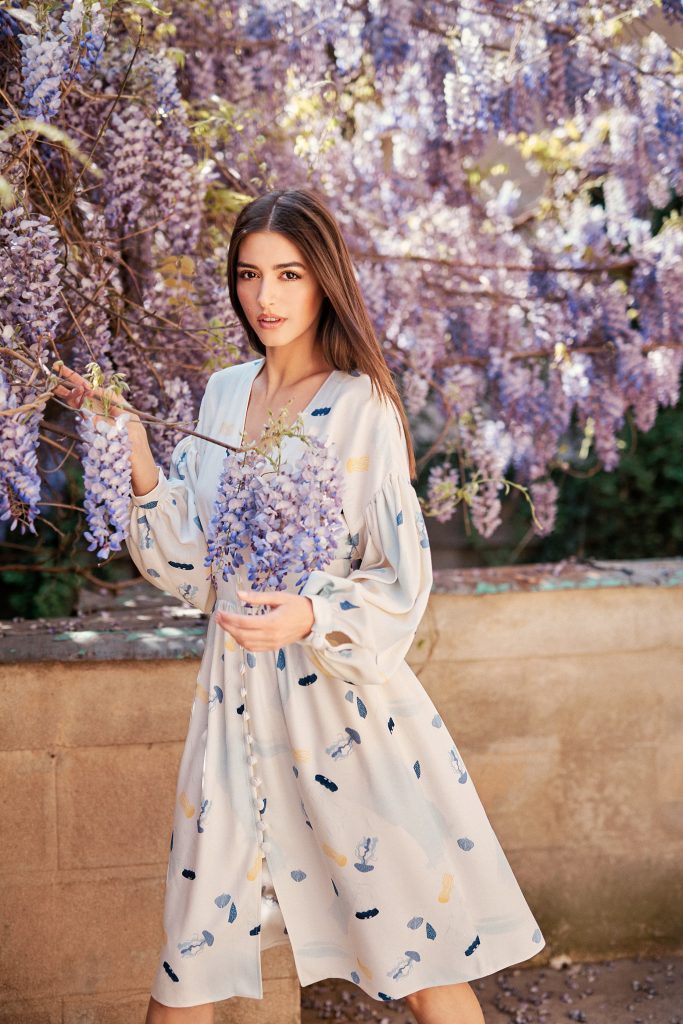 Below you'll find 5 chic ways to style the Jellyfish Print Midi Shirt Dress, perfect for any plans you have for today.
1. Chic office days
When it comes to workwear, being comfortable is mandatory for a day full of meetings and deadlines. Style the Jellyfish Print Midi Shirt Dress with a pair of navy slingback falts and add the Ines Porcelain Earrings by Madalina Andronic. You'll feel like conquering every task, one by one.
2. Cozy gatherings with BFFs
In times of social distancing, we value even more summer nights spent in the company of our best friends. For such special occasions, pun on some sandals and a strong statement bag in order to give the look the polish you need and get ready for a well spent evening in the company of your favorite human beings in the entire world.
3. VIP pool party
OK, it's time to run the world, girl! You know that new pair of gold high heels sandals, bought during lockdown, but you haven't a chance to wear yet? This is the event you were hoping for. Put on that super fashionable high heels sandals and accessorize the Jellyfish Print Midi Shirt Dress with these absolute amazing porcelain earrings by Madalina Andronic. And get ready to be in the spotlight!
4. Romantic dinner
Whatever your plans for this week are, be sure to plan time with your love partner. Make a reservation some place nice and invite your half to dinner. Friday night dinner is always a good to catch up with all the crazy stories that happened during the week and finally reconnect. Style the Jellyfish V neck shirt dress with a pair of nude stilettos, add a vintage clutch and enjoy a romantic summer dinner with your love one.
5. A walk by the beach
There's no better place to wear a JELLYFISH print shirt dress than the beach, of course! Put on a one-piece swimsuit, a pair of flat sandals and a nice floppy straw sun hat and get ready to spend a day like a summer holiday by the beach. Don't forget the sunglasses!
P.S. Don't forget about our summer surprise! Use the promo code SUMMER15 and get a 15% discount off anything you like in our shop, including the Jellyfish Print Midi Shirt Dress.